I know its just a wall....I took a picture of this wall that belongs to a building of a small university in Bamberg, Germany last year. I was standing on a bridge and I could not resist taking a picture of this building. I'm not sure how they did this as the building is surrounded by water. Go figure! When there is a will there is a way!
I'm participating in

Rednesday

. If you want to see more red, then just click HERE. Sue is the hostess and she loves red!
I'm also joining

Welcome Wednesday

. If you want to meet other friendly bloggers, just click on the button: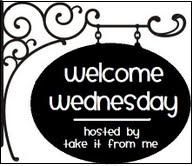 I've just jointed this cute blog hop:
Blog, Hop, Skip & Jump Wednesday hosted by Jessica!
To join just click on the button!