Last year I moved to Doha, Qatar. My husband and I rented a small apartment right next to the Four Seasons. We had a very small budget. While he was at work I went shopping (of course). I shopped in different souks and malls and here are a few pictures of what I bought to furnish our tiny apartment.
The forbidden table! (no drinking allowed in a Muslim country! Shhh!




A lot of the furnishings are inspired by India (they also import from China). They love gold and red. I'm usually not a flashy person but I thought that the mirror would brighten the apartment.
One thing you probably know about living in the Middle-East is that it is extremely hot and humid. The only time we can actually stay outside a bit is at night. As you travel by car in Doha you can see many parks catering to children. They are usually empty. If you drive around 10:00pm or later at night you will find that the parks are full of children. Its understandable but its just weird to see so many mothers (all dressed in black veils) playing with their toddlers in the middle of the night. While walking around in a beautiful souk I found these beautiful Indian lanterns. Just the thing to brighten our tiny balcony.
We had a beautiful view of the Arabian ocean. The boats just rest there during the day because its just too hot to even go out in them but come night time when its time to sleep......everybody is out enjoying themselves while we poor expats need to get some rest to confront the unbelievable traffic in Doha each morning (that's another story).
This post is brought to you by the letter A. Want to see more A's? Join

Jenny

right here !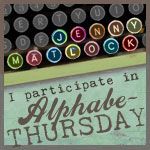 I've also joined a new blog hop:
If you are interested in meeting new friends on FUN FOLLOW FRIDAY, just click
HERE