While in Bruges (Belgium) last fall I could not help but stare at this beautiful lace dress in the window. I love lace, especially when it's handmade. I bought a few pieces. Our Canadian money was worth less last year. Its rather expensive but you should see the finished results. Bruges is renowned the world over for its lace. This dress is not for sale but I can just imagine the time it took to complete.
There is a section of Bruges where one can find many stores that specialized in lace. My husband was not too interested but I was mesmerised by the beautiful details. Here are a few more pictures of what I saw:
I've joined Jenny at Alphabe-Thursday this week, for funnier posts than mine, please click
HERE!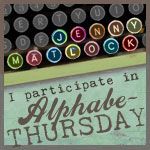 I've also linked up to

Jennete at Smart and Trendy Moms

: Just click on the button to meet some really friendly bloggers: