People can be enlightened at any time and at any stage in their lives. They just have to be

w

illing to accept it when a

w

indow of opportunity opens up. It is a gift

w

hen a person feels enlightened.

W

hen a person

w

ishes to deliver enlightenment it is usually one

w

ho truly loves and respects the person

w

ise and

w

orthwhile enough to receive it. Enlightenment isn't always

w

elcomed and can make things

w

orse at times, especially

w

hen family is involved. Families tend to shy and

w

restle away from enlightenment and stick their heads in the sand and say "Oh that's just the

w

ay so-and-so is." Or the family

w

alks around on eggshells not

w

anting to upset anyone as to create unwanted

w

ars. In order for families to heal

w

ell and give them new

w

ings they need to communicate to mend old

w

ounds. Yes,

w

e might feel

w

eepy... a good look at oneself isn't easy. It might feel like things are

w

orse for a

w

hile and

w

e feel like

w

ithdrawing although in the end a

w

eight can be lifted and life can be enjoyed once again.


This is my sanity prayer or mantra. Its given me wings when life feels

w

rong and I feel like a

w

reck:


God,
grant me the serenity to accept
the things I cannot change


the courage to change


the things I can and
the

w

isdom to know
the difference. Hope you enjoyed my

W

post. I have to stop now as I'm getting a

w

riter's cramp..... Today I'm joining Jenny at

Alphabe- Thursday

. If you want to join in the fun, click here!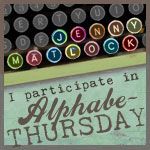 I am also joining Sharon at

Just for the Joy of it

. If you want to join in just for the joy of it, click here!
I'm also hooking up with

Smart and Trendy Moms

at

Social Parade

, to toot your horn in this parade, please click here!

Emma

has a cute blog hop. If you want to join

Friendly Friday

, click here!
You probably know that French people love frog's legs. But who would eat this friendly little frog especially since he is inviting you to hop on over here to meet new friends at

Blog Hop Friday!
If you dont like to hop perhaps you prefer to fly. If so fly on over to

Friday Follow Me

. To fly over, click here!
Here is a girl that I envy! If I was younger and without kids I would definitely follow in her footsteps. For now I will follow her blog hop

Follow Back Friday

NYC Island Gal

here!
Want to meet a

Creative Girl

and some new friends all at the same time? Well look no further because the place is here and the time is now.
If you are Forty or Forty plus (that's not a bra size) you perhaps want to meet some 40 year young bloggers at

Follow Friday 40 and Over!

If you need glasses to read this then you qualify. Just click

here to see who else has to look over or under their glasses to check who is on this list!