Here is a great recipe that is so simple and yet so delicious. Its perfect for this time of the year when berries are so abundant!
For 6 people:
2 cups (1lb) of your favorite red berries

3 tablespoons of sugar (white)
2 tablespoons of red currant jam
1/2 cup of soft butter
1/2 cup of brown sugar

1 1/2 cup of flour
Préparation :

10 mn

Cooking time :

15 mn

Resting time: 0 min
Total time :

25 mn
1
) Preheat oven at 325 F. Mix the red BERRIES with the sugar and the current jam and spread in 6 individual small ramequins.
2)
Mix the butter, the brown sugar
and flour and spread evenly on mixed berry preparation.
3) Cook in the oven for 15 to 20 minutes.

Pour finir...
while it is still warm, I like to add a tablespoon of whipped cream or my favorite: a scoop of vanilla ice cream...... mmmm!
To see other posts relating to

red

, please visit Sue here!
To vi
sit Melissa, Carly and and Allison, just click on the following button
:

To visit Kristin and Jaime at: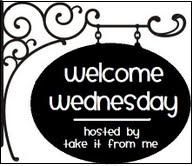 please click
here!