Today June 26th, I'm joining Chari at Sunday Favorites.
"Sunday Favorites" is a Sunday meme designed to give bloggers a chance to share a favorite post from the past!!! For more information on how to join so you can republish a past post just click here!
I need a consultation with Dr. Pinsky before this happens to me:
It looks like I'm not the only one with an addiction. Take a look at this article:
"An annual report from a Catholic counseling service claims computer games are partly to blame for complicating wedded bliss. Troubled home life? Blame the Internet if you're using it to do work, , gamble and of course, play computer games...
According to the Irish Examiner, the counseling service said the number of people experiencing marital problems "because of Internet use" surged 87.5 per cent from 2007 to 2009. What's more, 15 per cent of the service's clients face "huge difficulties" because of Internet-related activity."
Hi Dear Friends,
Yikes! Blogging was not mentioned as a problem here. PHEW! I'm happy I will not be part of the statistics with "marital problems". I still think I need to write Dr. Pinsky a letter; at least, to examine my blogging behavior. What do you think constitutes normal versus abnormal blogging behavior? My weakness is that I spend too much time blogging. There should be a gadget or device that would warn the blogger that his or her time is up: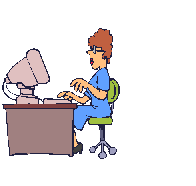 Well maybe not as extreme. Anyway, Dr. Pinsky, can you come to my house? Heavy blogging workload prevents me from leaving my home at this point....
☆•*¨*•.¸¸❤❤¸.•*¨*•☆☆☆•*¨*•.¸¸❤❤¸.•*¨*•☆