I'm feeling a bit under the weather today but I still wanted to participate in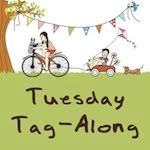 This blog hop is a great way to discover new blogs and make new friends. It is hosted by

I'm also participating in another blog hop hosted by Leigh. She created THE HAPPINESS PROJECT. It consists of posting a photo or more that makes you wildly happy. You can visit her on her blog by just clicking the following button (she is wildly funny):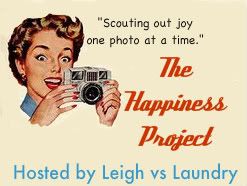 Today, I've decided to post some

pictures of

Paris. I am headed there at the end of summer and I thought I would share some past memories . I have friends that already live there. That always helps regarding hotel bills LOL. They are so lucky! I should not complain because I too have traveled and lived in many countries due to my husband's work. But I have never lived in Europe. Its always been one of my dreams. My comments will be brief today because of this silly cold that's exhausting me. Its just that time of the year in Montréal...
Ready for a walk
: (maybe I'll sit in a wheelchair and you can push me LOL)
Paris is made for pedestrians. You can walk for days in different streets and each street is as beautiful as the last. There are so many shops:
There are no big grocery stores in
Paris
. You practically have to shop every day. This shop has tasty oils, vinegars, pâtés and fresh cold cuts hanging in the window.
I love the narrowness of the streets and especially the ornamental iron works in front of their long windows.
I'm always amazed by all the work that goes into decorating their buildings especially over the doors. I love their medallions!
Storefronts are tiny but what they do have is always well decorated!
Translated it means: Street of the bad boys.....(hope their cute too)
I love figurines, especially of Tintin and his friends. As a child I read every

Tintin

thatI could put my hands on!
After a long walk, its normal to want to sit down! The problem is choosing a café or patisserie or salon de thé. And then there's choosing what you want to eat....or how much....I always bring a bigger size of jeans with me....
The next decision is to seat inside or out. I prefer eating outside to take in the smells of other pastry shops baking fresh baguettes or just do a bit of discrete people watching. They dont like it when we stare....
Should I win the lottery one day, this is what my French apartment would look like! I know... in my dreams! I hope you enjoyed this small tour of Paris. Now I'm ready to go visit you!